I have been fortunate to be able to work with fine individuals working in Defence of their countries (India and USA) and help them pass PMP exam. Last week one of my students, Abhijeet Sarkar, passed his PMP exam. I have been amazed by his organized approach and absolute commitment to the PMP studies, and it is my privilege to bring to you his exam experience & strategies, this week.
Don't miss his study tips at the end of this article.

Abhijeet is from Pune and employed with the Department of Defence in Operations role. His hobbies include playing football & listening to music.

As you are working with Defence, what made you take up PMP?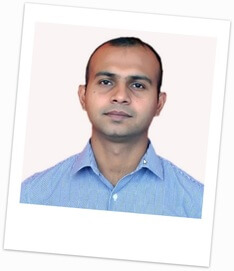 My job profile demands core operations strategy and sometimes aimed at achieving critical tasks. So upskilling this with PMP was a default choice for me.
PMP is the only practical knowledge source that bridges the gap between a project and operations. Because of this I decided to understand the domain with a lens eye.
Certainly now after being successfully certified, the knowledge of cost, budget, risk, quality is so deep compartmentalized in my brain that I'm just ready to commit to my organization saying that, "Hey is there a really risky and critical mission? I am the best guy to deal it!"
Also read: PMP online training is the best way to prepare, Srinivas shares his PMP success strategy
Which study resources did you consider, and eventually used for the exam preparation?
I had a false start with Udemy course during lock down and view personal and professional commitment could not follow it.
Then I got a breather in the month of October and called Shiv Shenoy for rescue. Based on the conversation I signed up for his PM Exam Last Mile prep program and immediately got hooked to the mind maps based video learning.
I took prints of all the processes and dovetailed it with combining Last Mile course and cover to cover of PMBOK reading.
For practicing and perfecting the art of taking test I subscribed to Cornelius' simulator.
How did you approach the exam and what was your study plan?
I followed a strict 7-week study plan from the Last Mile program.
I followed it to the hilt, even when there were days I felt things didn't go as per the plan.
There were days when I studied for 12 hrs to finish the day's commitment. On an average I spent about 6 hrs per day at least 4 days in a week, including Sunday.
Also read: Manish ends his 11 certification marathon of 2020 with PMP & shares his strategies
You have been part of the PM Exam Last Mile prep program (thank you!). Could you please share how it helped you?
Subscribing to PM Exam Last Mile was THE best decision I made, I would say.
The mind maps not only helped me to divide parts of my brain for easier understanding, but also expedited the process of application and correlation of Process Groups and Knowledge Areas, how information gets transformed into project artifacts, and so on.
I never did learning of ITTOs but was very sure the difference between Confirming (Closed Phase), Obtaining (Scope) and Verifying (Quality) deliverable.
30 days prior my exam I knew 49 processes inside out. Thanks to the 'Frame' method I had it lit up on my wall which helped. A lot.
Did you face any challenges along the way?
My PMP journey was on a tight schedule and not a smooth ride.
I never scored beyond 69% in PrepCast mock tests.
Over there I had this gentleman, mentor, brother or you can say friend called Shiv Shenoy helping me dealing with motivation levels and continuous emphasizing on analysis of the mock tests rather than mulling over the % scored.
I prepared an exhaustive error log of all 1200 mock test questions with all possible Red, Blue, & Green ink so that I can remember my mistakes and avoid repeating them.
Also read: How Mariia used translation as a means to take her PMP exam in Russian and aced it!
The week before the exam is crucial. What was your approach to study during this week?
7 days prior to the exam day I took a full-length mock tests every single day.
I took it exactly on my scheduled exam time (10 am), finished it, took a nap and then did a marathon analysis for next 8hrs.
48 hrs prior to the exam I only revised my error logs & brain dump which I prepared referring Last Mile and my notes.
Referred to PMBOK only for glossary of terms.
What was your exam experience like?
I had opted for the exam at a test center 45 mins ride from my home. Timing to reach the venue, exact location, place to park the car – all these doubts were cleared as I visited the exam center 2 days prior the exam.
The staff at the testing center was very kind and actually explained each detail about the exam process.
The exam questions were complex to an extent that many a times I had to close my eyes for few seconds so that at least I can understand what the question is really asking about.
Though there were no surprising situations for me, after taking the PrepCast mock tests, the 4 liner questions actually tested every bit of the concept and threadbare knowledge.
And most of the questions were of such 4-liner types. I got hardly 4-5 formula based questions. They were simple critical path questions twisted a bit.
Had one CV/SV numerical which I didn't quite understand, did a guess work and just moved ahead.
Also read: Recommended PMP resource list!
Would you have any specific study tips for students, especially taking the new exam?
The approach would be same, in my view, for the new exam as well.
The main strategy which saved was one answer to each question: 'What is the problem that this Project Manager is facing here?'
I kept on asking this question 200 times and selected the best option out of the given 4.
Other few tips are-
Although people say that consistently hitting 80%+ is essential, no worries about mock test score condition should be consistently decent 66/67% and beyond.
More the mock tests better it is; but complete end-to-end study is necessary for this strategy to succeed.
A mock test without analysis is calling the demon to take care further. Selected analysis & diligent review of all 200 questions makes for a wonderful learning experience.
Whenever there's 'risk' word used in the options try to read the question deliberately and see weather words like 'critical' or 'product is not viable any more' is mentioned or not. The answer would certainly warrant a risk analysis.
Many say give a gap of a day between 2 mock tests. But if you have just days to the exam, I would suggest to take a mock test daily & at the same time as your exam. Again this advice is from my friend Shiv that I implemented successfully.
Please read the exam strategies from Last Mile especially the last few lines where Shiv says select your first choice and then deliberate it further. I did the same, selected the first choice, did spend few more seconds if not sure and never left any question for review because I know I will not have the bandwidth of time and knowledge to do justice on return.
Inside the exam center I avoided interacting with anybody and created an imaginary bubble around me as if I am sitting in my study room with ear plugs (given by the test center) to avoid even a decibel of distraction (keyboard noise, other participants talking with instructors etc).
Last but not the least – there's nothing to lose. You only gain by the exam experience, one way of the other. So go ahead with full knowledge coupled with strategy not a passive but a direct approach to the bullseye i.e ' Congratulations you are PMP certified!!!'
All the best!
Abhijeet Sarkar, PMP
[SneakyAffiliate sneakyaffiliateurl="http%3A//www.pmexamsmartnotes.com/prepcastop-discount" sneakyaffiliatecookiexpdays="1″ sneakyaffiliatesplash="Are%20you%20sure%20you%20want%20to%20leave%20before%20you%20checkout%20the%20most%20liked%20PMP%20training%20suite%3F" ] [/SneakyAffiliate]