Few days ago my friend at Simplilearn, Keerthan Gangolli, asked me if I'd be interested in reviewing their PMP® course. I jumped at the opportunity, of course, and what I found was indeed interesting.
First off, Simplilearn has its roots in my own city, which is something I am proud of. But then the numbers! Overall 500,000+ students from 150+ countries have taken over 400 courses on Simplilearn – being the catalyst for over $5 billion in salary hikes! This makes Simplilearn one of the foremost players in online education domain.
What is more impressive, and useful for you, is this – Simplilearn PMP® course alone is taken by over 46,807+ students – with an astonishing 98.6% passing the exam (official figures)! Compare that with PMP® exam's average passing percentage of 60%+ – and it'll tell a whole lot about the quality of this course.
These statistics made me WANT to look at the course with a critical eye, and from the perspective of you – PMP® exam student looking for an economical, effective and result-oriented PMP® prep course.
During the review I found something rather (pleasantly) surprising, so please make sure you read this review all the way till the end!
Here's my (very) detailed finding, so that you can do your own due-diligence about the course based on facts and figures.
But if you are in a hurry, here's the…
Course is completely updated for 2016 new PMP® exam (I knew you wanted to know that! 🙂 )
Simplilearn PMP course is a mix of video lessons spread over 16 groups of lessons, tips & tricks, brain dump, case studies, course ebook, chapter level quizzes, and importantly, 5 full-length 200 question 4 hour mock exams – sort of a complete PMP® prep package.
This course is taken by over 46,807+ PMP students with an astonishing passing percentage of 98.6% (official figures). The average PMP® exam passing percent is just over 60%.
You get 180 days of access to the course – which in my view is more than twice the amount of average time needed to prepare for PMP® exam from scratch.
Use the five 4hr-200 question mock tests to test your knowledge during the course and test your preparedness after you finish studying the course – and to identify weak areas and plug the gaps.
83 end of chapter quizzes – proven way to cement your learning from every chapter right before you move to the next one.
Consists of 5 case studies and 12 scenario based games (PMI recently updated even ITTO questions to scenario based ones)
This Simplilearn PMP® course content is scrutinized and approved by PMI – and awarded REP (Registered Education Provider) credential to Simplilearn. This means that you can fill your 35 contact hours of project management education mandatory requirement put forth by PMI, by taking this course. In case of an audit, the certificate given by Simplilearn will serve the purpose. Keep this as a side benefit though. The course is a definite useful study resource for a PMP student. Did I tell you that you don't have to give an exam to earn this certificate? 🙂
If you didn't like the course for some reason, simply ask for your money back within 7 days of purchase. You can take advantage of this 100% money back guarantee. Just make sure you haven't watched over 50% videos and not downloaded the complete course material ebook (fair expectations to avoid misuse – and not a bother to serious Project Management Professional certification aspirants).
If you like the flexibility of self-paced visual online learning AND enjoy interactive online classroom training to clear doubts and have study buddies – you're going to love their blended model.
Fantastic focus on gently nudging and helping PMP student study the course – not found in any other online platform in my view.
Trusted by many organizations such as Bosch, Cisco, Apple, Samsung, GE, Deloitte to train their project managers
Overall, one of the best PMP® exam preparation courses in the market – both in terms of price as well as effectiveness.
My recommendation? Go for it. The course is de-risked in every conceivable way, so there is no excuse not to try it.
Now back to the details.
First thing I noticed is that the course is put together and taught by experts such as Jeff Allen, with decades of project management experience as well as teaching experience.
Course Interface (Simplilearn calls it 'Study Central')
Clutter-free, organized, intuitive, study-friendly study interface.
The simple, highly functional and study-friendly interface jumps at you.
Each lesson is broken down into small chunks of sub-lessons of few minutes each (in some cases under a minute), with the title indicating the concept being taught. This means you can maintain study momentum even if you have few minutes of time in between your work, during a break, commute or even during commercial break of your favorite movie.
I find this extremely valuable, because whenever you find gaps in your study (say after you took a mock test) you can go back and re-learn the concepts. Also, you can pick and choose what to revise as you get closer to the exam.
Just above the video screen you see a series of indicators for lessons. Each one turns into a small check mark as you complete each video (partial completion is also indicated visually). The same is indicated on the left-side bar along with the sub-lesson titles as well. This is a visual indication of how much progress you have made under each lesson.
Access duration
Simplilearn PMP® course gives you unrestricted access for 180 days (about 6 months).
Don't let this put you off. This is usually more than enough a time because on an average PMP® exam can be cleared with a leisurely 3-month schedule. Most of PMESN students that have passed the PMP® exam have done it in lesser duration though.
Course Content
There are 16 'Lessons' or chapters if you will – course content grouped under a logical section.
Each lesson consists of a set of videos and typically covers a logical group of concepts such as Project Management Framework, or a specific Knowledge Area, and is concluded with a Quiz to test your understanding, a Summary and a Conclusion video each.
The teaching style is top-down and systematic – I found this particularly easy to make own notes. If you are someone that enjoys making notes whenever you learn something (by the way, I highly recommend this approach) you will love this teaching style. This teaching style is easier to understand and easier to retain the knowledge.
After these lessons, you'll find a 'Tips & Tricks' section that contains 10 videos. Each of these videos show a particular aspect of the exam. Do Not Miss This Section.
You will learn,
PMP® Exam prep strategies
Question strategies
PMI-isms (useful in answering some of the PMP® exam questions)
Memorization chart
Tips to use your tutorial time efficiently
and more..
At the end you will have access to 5 full-length (4 hours, 200 questions) Simulation tests. Highly Useful!
You can take them any time, pause and continue as time permits.
I recommend using the first Simulation test at the end of first round of study, one after revising the entire content second time and the remaining in the last week leading up to the exam. This could be a useful way of utilizing these mock tests.
If you are able to score consistently over 80% in each of fresh mock tests – usually this is an indication that you are ready for the PMP® exam.
NOTES feature
Notes lets you make context specific study notes.
Notes is a great way to make short notes of difficult points, or even a gist of the lesson in your own words. I could make notes both at granular lesson or at course level.
Writing our understanding in our own words is a very useful way of cementing our understanding of the subject. I wish there was a way to export only notes of the entire course – a student could print these out and use for revision on the eve of the test.
The cool feature is that you can play back the presentation at the exact point when you made notes. Neat.
FORUM access
You are never alone while studying, interact with other students and moderator, ask away questions!
Study buddy is a concept dear to me and I suggest it in some of my articles as well on the blog. Forum serves a little bit of this purpose, with other additional advantages.
You can ask a concept/lesson specific questions on the forum, or higher level, and get it answered by other fellow students.
Additional Resources
3 awesome additional complementary study resources.
Simplilearn gives 3 additional study resources that complement the videos very well.
Brain dump – this is a collection of formulas, important definitions, common PMP® abbreviations and collection of various concepts.
Case studies – collection of 5 case real-life studies on different concepts such as benefits of having project management methodology, procurement agreements, managing scope using change management, building a great team of people, and quality management.
Each of these depict real life project management challenge, its solution, approach taken during execution, outcome, success factors and finally the lessons learned.
These case studies give the PMP® student insights into how project management concepts can be applied in a real life scenario, and can prepare her to execute her job better.
The course ebook – this is collection of slides used in the presentation throughout the course along with explanation. This would be good companion while traveling, or during second round of your study. Especially useful if your internet connection is not great!
Tip: If you intend to test the quality of the course first and ask for your money back if you are not satisfied (I urge you to do this), please make sure you don't download the course content ebook – it voids the guarantee.
35 hour contact education Certificate – a mandated requirement by PMI to appear for PMP® exam
Unlock the certificate as soon as you reach 85% of videos, fulfills PMI's mandated requirement.
All you got to do is keep on studying the videos and when you cross 85% of the content your 35hr contact education certificate becomes available to claim. Now, you will need to pass a simple test to unlock the certificate. This is as per PMI's guidelines to issue the 35 project management contact hours certificate.

The course supports and gently nudges you to study!
There is great support from the platform itself to give that little nudge for study.
Reminders, notifications, study plan support, visual cues – keeps your study momentum.
For instance,
You can set a focus course and break the content into weekly study plan.
You'll get a mail reminder if you haven't logged on for few days.
You'll get to set study schedule based on your time availability.
The dashboard will also show you the amount of time you are putting in on the course. You'll get notifications, reminders – everything needed to keep up the study momentum!
Awesome feature. Not seen in other course platforms.

Click to know more about Simplilearn's PMP course.
Simplilearn PMP® Course Review: Pros
Here are few specific points I liked about the course –
You will not find stock images based presentation slides in this course, each slide is filled with actionable information.
I loved the small, neat illustrations used to explain difficult concepts. This visual presentation helps one understand the difficult concepts easily and recall effortlessly. Very convenient to make self-study notes.
The memorization chart from Downloads section is an effective way to memorize high level connection between various processes. There is a template that you can print on a paper and fill in with a pencil as a way to test your memorization.
Another very useful accompanied resource is the course ebook. This contains the slides used in the lessons along with the explanation. This I find is a very useful resource to go over when you have no internet connectivity AND when you want to quickly revise the material.
Another great feature I liked is that there is space given for taking notes after each slide-image, on almost all pages of this ebook. This means that you can take the printout (about 750+ pages – consider environment!) and make lesson-wise notes as you go over the videos. This will be a great tool for revision before the PMP exam.


Here's probably a better way for 'multi-mode study'. Extend your PC/laptop with an additional display monitor. Push the pdf on to display monitor and watch videos on PC/laptop.

In-built Community support. Nough said!
Content Coverage – I found that the course content goes beyond what you will find in PMBOK. There is well-rounded focus on gaining crucial knowledge that not only helps you prepare better for the PMP exam, but also lets you apply on work and make better career progress.
For instance, project selection methods such as Benefit measurement methods and Constrained optimization methods are explained with examples. They are explained with just enough depth, probably for a good reason. Being aware of them is more important for a project manager, when it is time to implement on the project she can always get in-depth knowledge from other resources.
24×7 live chat and email support. This is most crucial till you get comfortable with the course and set into a study rhythm. This coupled with 7-day money-back guarantee takes away all the risk from the purchase.
Courses can be accessed on smartphones using iOS or Android apps.
Here's the best part (the surprise that I mentioned at the beginning)..
If you are enrolling for the Simplilearn's Instructor Led Learning Pass Training for PMP®, you will get 100% of enrollment fee if you do not pass the exam in the first attempt!
This is so over the top, that I decided to cut the part of guarantee from Simplilearn site and paste here so you can read/hear it from horse's mouth! –
Pass PMP exam in your first attempt, or get 100% of your enrollment fee refunded (read this on the course description page)!
Click here to know more about Simplilearn's PMP® course.
Simplilearn PMP® Course Review: Areas to Improve
I thought the course could be made more useful if few finer aspects were looked at. Here are they –
Few videos felt as if going through a presentation at a meeting, because of the small-print power-point bullet points and the presenter almost reading word-by-word. Don't let this diminish your enthusiasm though – the content pretty easy to follow through.
It would have been great to have the ability to run the videos at 1.5x or 2x speed. This is a huge time-saver and confidence booster during revision just before the PMP® exam. Having said this I don't see much of an issue because the lessons are broken down into smaller chunks of few minutes each. You can skip the ones you don't want and go over the ones you need, during revision (if you need the ability to run videos at 1.5x or 2x speed PMPrepCast provides this).
I found small glitches like chapter links in TOC of ebook pointing to a local drive instead of appropriate section in the ebook. I didn't find any of these to be blockers though.
I could not very clearly demarcate content for the updated PMP® exam (effective 12 Jan 2016) in the course (call me obsessive!). When I contacted the Category Manager for PMP® exam about this, Simplilearn confirmed that the course covers the new updated PMP® exam syllabus.
You cannot download the videos and watch offline – which would be helpful if you have Internet bandwidth issue, or want to watch videos on smartphone. PM PrepCast solves this issue as it allows downloads using iTunes or even directly to any PC, which you can then copy on to your smartphone. Read my review here.
That's great, Shiv – did you manage to get something for us?
Of course, how could I not?! 🙂
Just follow along –
Step 2: Forward me your purchase order email to get exclusive PMP® study bonuses from me (scroll down)! These have made it so much easier for hundreds of students to pass PMP® exam and I'm certain they'll be as useful for you as well! 🙂
"What are the bonuses, Shiv", did you ask?
Bonus #1 Book: 'The Complete PMP® Formula Guide'
You may get 5 to 30, or more formula-based questions on the exam.
I think I got about 15-20 of them. One of the main lessons I learned by going through sample tests is that I needed to study few other topics that were not covered in PMBOK®.
And many of these topics had formulas (IRR, ROI, PTA and more).
So, I put together all these formulas and used for my PMP® preparation. The Complete PMP® Formula Guide,
Briefly explains each concept
Explains the formula involved
Shows how to solve them by using sample exam questions
Goes through sample questions in order to show how to apply formulas you've learned
In the last section, lists formulas in a tabular fashion, to make it easier for you to revise as the exam day approaches
In this book you'll master formulas from outside of PMBOK, and very much in the scope of PMP® exam.
"Hi Shiv, I cleared the exam today with all 5 Ps (Proficient). Thanks for your formula guide, it worked really well for me." – Arun Kumar Pasuparthi
This book is a true complement to this course as you will understand how exactly to interpret the question, apply formula and solve exam questions. This is given contextually (knowledge area-wise) so you get to learn-and-apply formulas by each topic.
Value: $47.95 (Yours for Free)
Bonus #2 Book: 'How To Create Effective Mind maps'
This is a how-to practical guide to learn this powerful learning tool – Mind maps.
Mind mapping is an effective means of taking notes and brainstorm complex topics.
A mind map involves writing down a central theme or topic and thinking of new and related ideas which branch out from the center.
By focusing on key ideas written down using your own words and looking for connections between them, you can map new information in a way that will help you better understand and retain information.
Mind mapping helps you to,

clear your thinking
brainstorm complex ideas efficiently
plan a presentation
remember things
plan personal goals
Mind maps are even one of the tools and techniques used in some of PMBOK®'s processes. Therefore when you master the Mind maps technique you will not only be benefited in your exam, but also in your career and personal life! I use this technique for all my personal and professional projects.
Value: $19.95 (Yours for Free)
Bonus #3 Book: '250 Best PMP® Sample Questions with Answers Explained'
I created a huge repository of sample questions for my own PMP® exam preparation. I got them from all around the web – forums, blogs, project management sites and past students' notes.
Also, I created a bunch of them myself (here's a little secret: creating your own questions makes it easier to grasp the subject, try it!).
In this book I have picked best of 250 questions from this repository, along with answers.
Value: $24.95 (Yours for Free)
Bonus #4 Book: 'MORE PMP® Exam Sample Questions'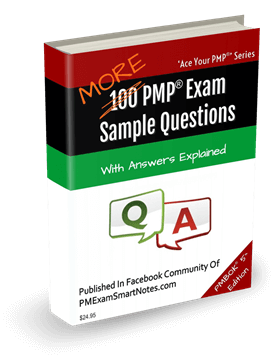 You might know that PMESN Facebook community is a vibrant place with daily sample PMP® questions, discussions, career related article posts, and some inspiration to get us through difficult time and projects (no pun intended).
Many of my friends in the community asked if they can get these questions explained in an ebook form. So, here is it: over 350+ exam questions published on this community and their answers, in an ebook form.
"While there are some connections back to Mr. Fichtner's work, Shiv Shenoy's PM Exam Smart Notes takes project management even further in his practical and extremely well laid out materials. The concepts are more briefly explained with understandable examples. I also found Mr. Shenoy on Facebook and Twitter, and also enjoyed the sample exam questions."

– Russell Maynard, http://maynardonline.net
Value: $24.95 (Yours for Free)
Bonus #5 Book: 'The Super Guide to PMP® Question Types'
On the exam, managing your time is everything. When you have to solve 200 questions in 4hrs, it  gives you little over a minute per question. That's all.
Moreover, if you take a break for water or rest-room the clock does not stop. Therefore, you need to be able to answer as many questions and as quickly as possible – without hurrying – and save time to tackle tough questions.
Did you know that each question can be traced to a 'type' or 'category' and can be addressed slightly differently (than just reading through it) in order to answer it in shortest possible time?
In this book I list 14 different types of PMP® questions, the way to handle them, and few sample exam questions to help understand how to identify these questions.
I also reveal my strategy for answer more questions right upfront in the exam, and increase chances of success.
People have written to me saying that this book has been very helpful to pass PMP®. You don't want to miss this book!
"Hello Shiv, Many thanks for your free materials I got as a bonus for buying the pmprepcast through your blog, and also for the various explanation to the 'boring' PMBOK… … Its so great to be on this other side of the divide…I'm glad I passed on first try and I am extremely grateful to you. Especially for that your book on PMP exam types."

– Funmilola James
Value: $47.95 (Yours for Free)
Bonus #6: 30min Free Skype Consult For Your PMP® Preparation
Over the years I have seen the successes and failures of many people taking their PMP® exam. I have spoken and guided hundreds of people for their PMP® preparation.
I lost close to 3 years procrastinating my own PMP® exam, without proper guidance and without picking up the right study pace. Until I tried a trick – that not only helped me pass the exam, but gave birth to a holistic idea : this PMESN blog.
In this 30min Skype call ask me any questions you have about preparing for PMP® certification exam. Even if you haven't got a clue about the best way to approach PMP® study, how to prepare your PMI® application, pace your study, fill the gaps between PMBOK® and PMP® exam, do the last minute preparation – I will help resolve them and suggest the approach I consider best for your unique situation. Simply use the Skype consultation button on this blog.
Value: $47 (Yours for Free)
I want to further ease your PMP® exam preparation efforts by giving these bonuses, worth over $334.85, for FREE!. All you do is click on the button below and invest in your PMP® education and forward me your purchase email shiv(at)pmexamsmartnotes(dot)com .
Limited time bonus #7 Book: 'How To Become a Star Project Manager'
Managing projects as we know is not limited to having the domain knowledge and project management knowledge. It is also about knowing the best practices followed by successful project managers and emulating the same at work.
This book is a collection of corporate wisdom that has been exhibited by successful people and is available for us to use in our own experience. I have done exactly the same – studying successful people and trying to model their behavior that lead to their success. Some of these you may have already excelled at!
This straight-to-the-point guide covers topics such as –
How to find your true career objective under 10 minutes
How to prepare for a project management interview and how to ace it
How to excel at work and substantially increase your chances of getting promoted at work (many project managers don't even know some of these techniques)
Understanding and looking for the symptoms that indicate whether your project might be shut down
Effective and practical techniques to manage time well at work
How to get into the 'flow' and accomplish most by being highly productive
What are the things you must avoid saying at work at any cost
How to understand and build relationship with an introvert boss
4 crucial and mostly overlooked characteristics of of an effective project manager
How to have most productive meetings and show you respect your and others' time
How to induce humor at work and increase productivity of your team
Proven ways of managing conflicts on project
and much more…
This 117 page book is a collection of 26 of my posts covering various tips, techniques and methods of being a very successful project manager. A must-have career guidance book for any project manager.
Value: $24.95 (Yours for Free, today)
Special bonus #8 Kindle Book: The Complete 'Ace Your PMP® Exam' Series: Essential PMP® Concepts Simplified
"Hi Shiv, I find your notes and material very very helpful. It is always a pleasure to find study material which is so clearly organised. Wish I had found all these earlier!!!!
Be sure I will recommend it to my colleagues studying for the PMP certification."
-Amaya Castañeda, Spain
For a limited time I am giving away this entire set of books (as single book) in Kindle format.
No worries if you don't have Kindle device, this book can be read on browser or on PC/Mac/Smartphone using the free Kindle reader app.
UPDATE Dec-2017:

The fantastic news is that I have created a brand new course now, which contains all of the above PMP study resources and MUCH more!
When you purchase this Simplilearn PMP course today, I will give you FREE access to this entire course!
In summary,
In this review I have given both – the facts and my opinion & tips – about various aspects of Simplilearn's PMP® course. I believe this is useful for you to make the decision about the course (click here to learn more about the features) I would advice you do not give a miss to PMBOK though, for the simple reason that PMI selects majority of PMP® exam questions from PMBOK.
This is a single course providing multiple benefits – video course, ebook course material, brain dump, case studies, Quizzes, and Simulator mock tests – complete all in one PMP® prep package.
If you are tied up with work and home and personal life and social life (like I was) and find it difficult to sustain study momentum, here's a good news.
Imagine the flexibility of online learning at your own time and pace AND then the benefits of online classroom interaction with teachers and fellow students. Simplilearn provides the blended model – a unique opportunity that can increase the study momentum so crucial during the PMP® prep.
This blended mode also has a zero-risk money-refund guarantee, wherein, in an unfortunate event that you do not pass your PMP® exam in the first attempt, Simplilearn will simply return your entire course fee.
While this gives you 6 months of online training access, it allows you to be part of 24+ online classroom batches, based on what time of the day works for you, for full 90 days. You can view all available batches right on this page by clicking 'Show Batches' button, or download entire schedule.
If you think that this in-depth review and bonuses can help any of your friends preparing for the PMP® exam, please share this article with your friends on social networks. Thank you, and I appreciate you!
I personally recommend this course for your PMP® exam prep.
But don't take my word for it. Please try & see for yourself.
If you are not happy for any reason (or no reason at all!) simply opt for your 7-day money back guarantee – which makes this totally risk free – you have nothing to lose by taking a closer look at this course. You'll be absolutely sure about your study investment and will have no regrets later!
This also means that in case you have any questions about the course content, format, or anything at all I'll be more than happy to help and support you. Please do not hesitate to send me an email. My email id is – shiv(at)pmexamsmartnotes(dot)com or you can even Skype me directly (Click here)! Or simply let me know what you think about this review, and if you'd like me to review any other course.
Now go ace that exam! You deserve the success and chance to get to the next level in your career.
Thanks for your time,
PMI is a registered trademark and service mark of the Project Management Institute, Inc.
PMP and CAPM is a registered certification mark of the Project Management Institute, Inc.
PMBOK is a registered trademark of the Project Management Institute, Inc.
Note – the course link is an affiliate link, which means that if you sign up for the course on Simplilearn I will get a small commission – at no additional cost to you – which goes towards running this blog and free PMP® coaching efforts. I thank you for your support!