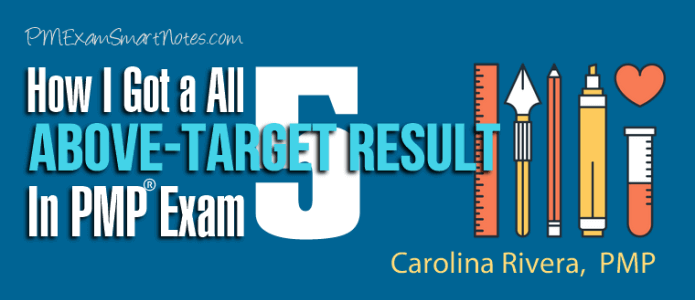 Shiv, happy to share that I passed my PMP exam with Above Target result in all 5 domains. Here is my study approach as you requested. I have project management background, particularly in Lean Six Sigma and Supply Chain management related projects in the Oil industry.
The PMP trigger
I am an Industrial Engineer with 15 years of experience in the Oil industry. I hold both a Bachelor and a Master degree in Industrial Engineer, graduating my Masters in Industrial Engineer in 2006 from the University of Houston in Texas. I work in Category Management in the Houston, Texas.
I wanted to earn PMP certification to enhance my career, open the door to new opportunities, and also formally document the experience in Project Management that I have gained so far.
This certification is also very well respected in the industry. An ideal professional certification to get for every project manager.
My study resources
I figured that having too many resources will only slow down the pace of my exam preparation. After some research and discussions with other PMPs, I decided on these 3 primary resources –
I took PMI's 35 hours course from the PMI Houston chapter, back in February of 2017.
Also Read: My detailed 4-point study plan to get Above-Target result in PMP exam – by Annu Gupta, PMP
This was a very good course that provided me also with the PMBOK 5th edition and Crosswind Learning System material. Due to work and family commitments, it was really difficult for me to take the exam shortly after taking the course. [click to continue…]